Project DRAX is of national and international importance. However, no government funding is available for this project, and as such will only be completed if sponsored by individuals and businesses.  If you would like to donate to project DRAX, you can do so in a number of ways.
By Cheque
Please make your cheques payable to  "Spaceguard UK" and post to:
Project Drax
Spaceguard UK
Llanshay Lane
KNIGHTON
LD7 1LW
By Internet or Electronic Banking (BACS)
Please make your payment using the details below:
Bank: Barclays Bank PLC
Account Name: Spaceguard UK
Sort Code: 207501
Account Number: 90973475
Using Credit or Debit Card Online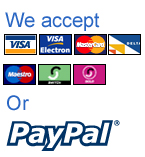 To donate online using your credit or debit card, please enter the amount you wish to donate in the box on the right of this page and click the button below it.