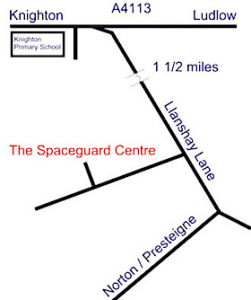 COVID RESTRICTIONS
Finally, from Wednesday 26 May we can open to the public again. 
But, until the social distancing regulations in Wales are relaxed, the following restrictions will have to apply.
Tours will have to be pre-booked

Only a single household or support bubble can be on each tour

Face coverings will have to be worn in the building

Hand sanitiser will be available, and there may be slight delays to tour timings due to the enhanced cleaning regime.
Please keep an eye on this page to see what the latest situation is, as things have a nasty habit of changing!
We are easily accessible from the main A4113 that passes through Knighton, and signed from the main road just east of the town.
The Centre is about 8 minutes drive up Llanshay Lane. If you are using SatNav or online maps with our postcode, ignore them for the last couple of miles and stay on Llanshay Lane until you see signs for the Spaceguard Centre (about 1.5 miles). To open a local map in a separate window use this link.
There is a regular train service to Knighton, but it is a long walk from the station! A taxi is a better solution.
Public Tours (suitable for ages 9+)
Day: Adults £8.00, Children (5-15 yrs) £5.00
Evening (Pre-booked only.  We do not run evening tours when we are on BST): Adults £10.00, Children (5-15 yrs) £7.00.  A minimum charge of £50 will apply to evening tours and pre-booked groups.
School Tours

(suitable for primary & secondary schools)
For details of school tours see our Education page.
Weather
Presteigne
14°
Rain Shower
07:4918:03 BST
Feels like: 14°C
Wind: 11km/h SW
Humidity: 93%
Pressure: 994.58mbar
UV index: 1
14°C
14°C
13°C
13°C
12°C

15/7°C
11/3°C
11/5°C
14/7°C
11/7°C

---